Every senior living community operator struggles with the same day-to-day complexities. In order for site-level stakeholders and executives to get on board with certain initiatives, the organization must create a well crafted, compelling, and an easy to adopt strategy that covers all these bases: marketing/corporate brand consistency, uniform family/resident engagement, a consistent look and feel across properties, corporate oversight, remote corporate menu and calendar management, promoting active lifestyles and differentiators, etc.
At this stage, all of these initiatives sound like a lot of work, with multiple technical systems being utilized, and at a high expense. While that may have been true in years past, modern-day tools can assist your organization with all of these corporate initiatives at a low cost and with a compellingly high ROI.
Here are 17 of the best enterprise solutions for senior living operators.
Activity program diversity supports dimensions of wellness. Finding the balance between a calendar that's easy to manage from HQ and yet is aesthetically pleasing, is attainable. You should look for a solution that can use one remote login to access and monitor calendars across multiple communities. The ability to create and manage corporate templates, branding, and content, supports brand consistency and strategic marketing initiatives (akin to that consistent "feel" you get when you walk into a Starbucks.) In addition to instant calendar creation with category and dimensions of wellness tagging, look for a tool that will save hours of work vs. the old MS Publisher, Excel or Word calendar designs. Yes, community calendars can be gorgeous and easy to manage, while having the ability to update remotely, export, print, and even display on screens across the residence.
Forget about the time-killing days of copy-pasting menu items for each and every community under your banner. Instead, save hours of design and printing time by using an automatic menu management platform. Quickly manage menus from any device and from anywhere – in or out of the community. Your chosen solution should be able to maintain a bank of food items, issue a corporate menu to all your communities, and allow onsite-based culinary staff to make changes as necessary – substantially speeding up the menu management process. Maintain your corporate menu consistency across locations and with access to info through print, Amazon Alexa, web, and TVs.
As a corporation, you're looking for ways to better streamline and manage requests coming from residents and their families. Reporting on the volume of requests and the speed of resolution across multiple properties doesn't have to be a manual process anymore. For better organization and faster actioning, consider implementing an on-line Service Request Manager (SRM) that allows residents and family to submit requests and place reservations in one place.
Allow them to easily submit items like repair requests (broken lightbulb, clogged drain,etc.), general suggestions (new menu items, activity types, etc.) and reservations (dinner, a seat on a trip or a spot at an activity, etc.) Enabling your staff to collect, track, and report on all requests in one central system (any device, anywhere, anytime), makes for easy audits and saves countless hours (think fewer calls to the front desk). Still, the front desk can still log phone calls, emails, in-person or written requests –  integrate with an existing maintenance/work order program like Direct Supply TELS for added productivity. Allowing residents and families to seamlessly correspond directly with your community, have it automatically go to the right department (IT, Maintenance, Culinary,etc.), and get automatic updates when a ticket status changes, really adds to the quality of their community experience and sets your homes apart from the rest.
While phone calls, mailed calendars, and email have been tried and true tools for communities to engage families and residents, it can often take many administrative hours while also varying in quality of execution from site to site. Enterprise control of communication that encourages proactive engagement is much more easily accomplished through a centralized portal. Families and residents are directed to sign up and connect directly with your community (your corporate messaging and branding is consistent throughout the experience). In addition, the portal can be accessed from any device and from anywhere in the world. Families can send requests directly to departments within your community if they have maintenance, dietary, administrative, or other requests. Best of all, share your newsletters, important updates, community photos, calendars, and menus.It's great marketing, communication, and engagement in one tool!
From head office, having visibility into how each community is marketing itself, messaging to prospects, residents, and families, while also ensuring the optimal diversity of activities and menu items, is much easier said than done. Here is where the Community TV Channel comes in! Keep residents more informed around the building and encourage happy feelings. Transparency and communication require less work and effort than ever before.  Broadcasting live weather and national, local, and community news allows residents to feel connected without the necessity of having to print these items on a daily basis. Pre-program videos to play on your channel including those from YouTube or from a designated educational video library. Quickly update information throughout the building without running to every notice board and to every floor. Free up your front desk staff time so they can help residents directly instead of answering repetitive questions that can now be addressed by your community TVs. Photo galleries showcase the vibrancy of activities and events within your community, while menus keep residents excited about what's available for breakfast, lunch, and dinner (use your administrator view to remotely see if the community is adhering to corporate menu guidelines). Don't forget to highlight staff members (new or existing) on your channel – promote resident and staff connection on a regular basis.

Maintaining consistent messaging, providing diverse and informative live or pre-recorded video content to one or multiple communities is within your control. Investing in an in-suite community channel comes with a multitude of benefits for your organization. The same great content that residents see on your communal TVs is readily available for them from the comfort of their room. Rotating menus, activity calendars, weather, and news are live! Residents with mobility issues can get the same great content that everyone else gets. Announcements like a bus leaving, the elevator being serviced, or an outbreak notification can be communicated in real-time. Programming leadership will love the versatility of a solution that can work with existing cable line infrastructure in communities. The last thing you need is to install a piece of equipment in each suite. Reducing the feeling of isolation and driving a real sense of "community" can systematically be supported with your organization's own custom in-suite TV channel.

There is one multi-layered question that continues to grow in importance among senior living operators: how do I stretch my activities budget, communicate quickly, entertain, and inform residents effectively at multiple communities and with less effort? The answer is live streaming video across your communities. Whether it's a musical act, religious service, or any other activity (think virtual bingo, cooking classes, bar trivia, birthday celebrations,etc.), all residents can participate. Promote the liveliness of your community by broadcasting live events on community screens. Even if bed-ridden, a resident can see the live community event from the comfort of their suite. You can hire one exercise instructor and live broadcast across multiple communities at once. Since a modern video streaming solution should automatically record and save a video to your corporate database, you should be able to easily schedule and rebroadcast the event at a later date, especially if residents missed it the first time (think big savings and ROI). As a Regional Manager, you can broadcast a weekly live state of the union address to multiple communities at once or you can delegate it to site-level staff. The possibilities for information sharing have never been richer and easier for operators. With a Live Video Streaming solution, your corporation makes sure everyone gets a front-row seat to the show.
Mailchimp, Constant Contact, aPlaceforMom and now…a Web Marketing TV Channel? Oh, yes! As an organization with many communities located in various regions, staying one step ahead of the competition when it comes to brand promotion and recognition is top of mind. Investing in a web marketing TV channel will help your communities:
Market your community and promote brand awareness to prospective families
Encourage prospects to book a tour based on their web experience
Increase move-ins and grow your web search rankings while marketing tailored, consistent, and enticing promotions
Showcase the vibrancy of events, activity calendars, and menus within your community
Focus on family engagement in real-time on your community website
For quicker launches, look to invest in a web channel that can reuse content from your existing calendars and menus.

Differentiating your communities from "the other ones down the street" can be done in as little as an investment in a solution that speaks to any Amazon Alexa-Enabled Device. Wow prospects on your tour by telling them to "just ask Alexa" for community info. Activities, events, and menus are just a question away from any Amazon Alexa-Enabled Device in your community. Daily breakfast, lunch, and dinner menus are available for all – no more guessing. An up-to-date listing of daily activities encourages resident engagement and promotes inclusiveness and involvement of residents with mobility or visual impairment. Alexa devices can even control in-suite thermostats and turn on a TV and tune it to your community's in-suite TV channel. Welcome to the future of senior living!
Need to send a message across a community for residents and/or staff members? What about if you need to communicate it to families? Someone has to call, another person has to send emails, another has to get on the PA System, and yet another needs to make print-outs and update bulletin boards. Multiply that effort by the number of floors/wings the community has and the number of systems you need to use to execute. What about if you need to get a message out to multiple communities? That is a lot of resourcing in what can become a mess to strategically coordinate. Enter all-in-one Community Message Broadcasting (CMB) systems! With one place to send instant alerts or pre-scheduled updates to residents, families, and staff, you'll never save more time and know that people have received "the message". Quickly send emergency alerts for infectious outbreaks or weather warnings or even fire drill reminders. With a CMB, keep everyone in the loop via email, SMS, text to voice, app, and TV screens across communities.
Enter your info below to access the
9 Technologies for Senior Living Guide
11. Digital Community Directory

Finding friends, discovering similarities, and learning about each other is nice when it's organic. In a senior living residence, fostering a "community vibe" is easier with the inclusion of a digital community directory. Look for a solution that allows for the simple upload of resident and/or staff directories. Residents who've opted in can find out who else shares similar interests. They can also easily identify staff members by their picture – a definite help with memory care patients. In addition, staff can quickly refresh themselves on the interests of their residents, which helps foster stronger bonds and improve resident care.
An active resident is a happy resident. An enterprise-level Activity Tracker allows you to:
Easily check-in and register residents for community activities – promoting engagement!
Generate reports by specific activities, categories, or by resident
Promote inclusiveness and ensure residents are getting the proper mix of mental and physical stimulation
Sync with your existing activity calendar management platform
Identify the most popular activities – allowing activity directors to make the most efficient use of their time
ROI reporting, which allows the organization to evaluate attendance/success of activities/events across communities and make strategic allocation or additional budgetary investments
Look for a solution that allows your staff to easily export reports graphically across properties, so they can be shared with adult children and other family members.
Consistent eating is a cornerstone of senior health. Effective real-time tracking of resident eating habits supports wellness, and in many jurisdictions tracking meals is the law. Look to invest in a web-based meal tracker that can work with your existing menu management solution. How often a resident eats, the meal-type, time of day, and location should be among the reportable data points. Quickly pull reports in real-time, or expect automated reports to save hours of manual tracking time. Ready reports mean there's no longer a need to chase staff for information. Imagine viewing the adherence of all your communities at a glance, and then being able to drill down to a single resident when needed.
Maintaining a high-level of professionalism and brand consistency is supported with an enterprise newsletter and flyer solution. You should be able to choose from several layout options to build your custom corporate newsletters in either landscape or portrait. Newsletter layouts should be divided into zones to make customization a breeze! Customized corporate templates should then be saved and implemented across multiple properties. Look for a newsletter builder that seamlessly integrates with your existing community platform to feed custom content into the final export. Make sure messaging and sections are uniform, while allowing your individual communities the ability to add their own custom information that speaks specifically to their audience.
15. Community Surveys
Simply put, surveys show residents your commitment to care and service quality! While you certainly care about site-level ratings, being able to disperse and analyze survey responses across all, or a given number of properties will provide you with corporate insight into brand perception and performance. Understand client satisfaction as an organization, increase resident retention, and minimize attrition. An adaptive community survey should be simple enough for any resident to use, should not require an app download, and should be able to be accessed from any web-enabled device.
Education and procedural compliance is critical to success at each senior living community, but how does one ensure all communities are on the same page? An online Learning Management System (LMS) and Policy and Procedure Database (PPD) will give you corporate visibility across all properties. A good LMS allows you to easily register, educate, and train staff using the platform's content library while still allowing you to put your pre-existing content (PDF, PPT, Videos, etc.) to good use. A central location for standardized testing on compliance (courses, documents, policies, and procedures) should promote effective staff training and adherence to all rules and regulations. With a great solution, expect to monitor compliance with non-educational items (e.g. flu shots) and automate emails and audit reports that provide greater detail based on your role visibility. Remember that educated staff members are more productive. When you provide scalable standardized mandatory training across all locations nation-wide, and add localized state or provincial education, you're keeping corporate compliance at its highest levels.
As is expected today, many communities use different video calling platforms to connect residents, families, staff, and healthcare professionals. Deciding on a HIPAA platform that's designed to be incredibly easy to learn and use for almost anyone – especially for people who aren't particularly tech-savvy, have low vision, or mobility challenges – will allow for greater adoption. It should work with virtually any device, minimizing the barrier to entry for family members to connect. Healthcare professionals love video calling because it enables remote check-ins which allow practitioners to see and interact with residents more frequently and at less cost. A well-managed video calling solution should create a Circle of Care that could include virtually anyone – from neighbors and loved ones to professional care providers. Support for in-context 3-way video conferencing, sending messages via text message (including video/pictures) and easy scheduling of video calls from a resident's living room are a must-have. Enjoying easy video visits and sharing the news with everyone at the tap of a button helps support a well-connected community environment.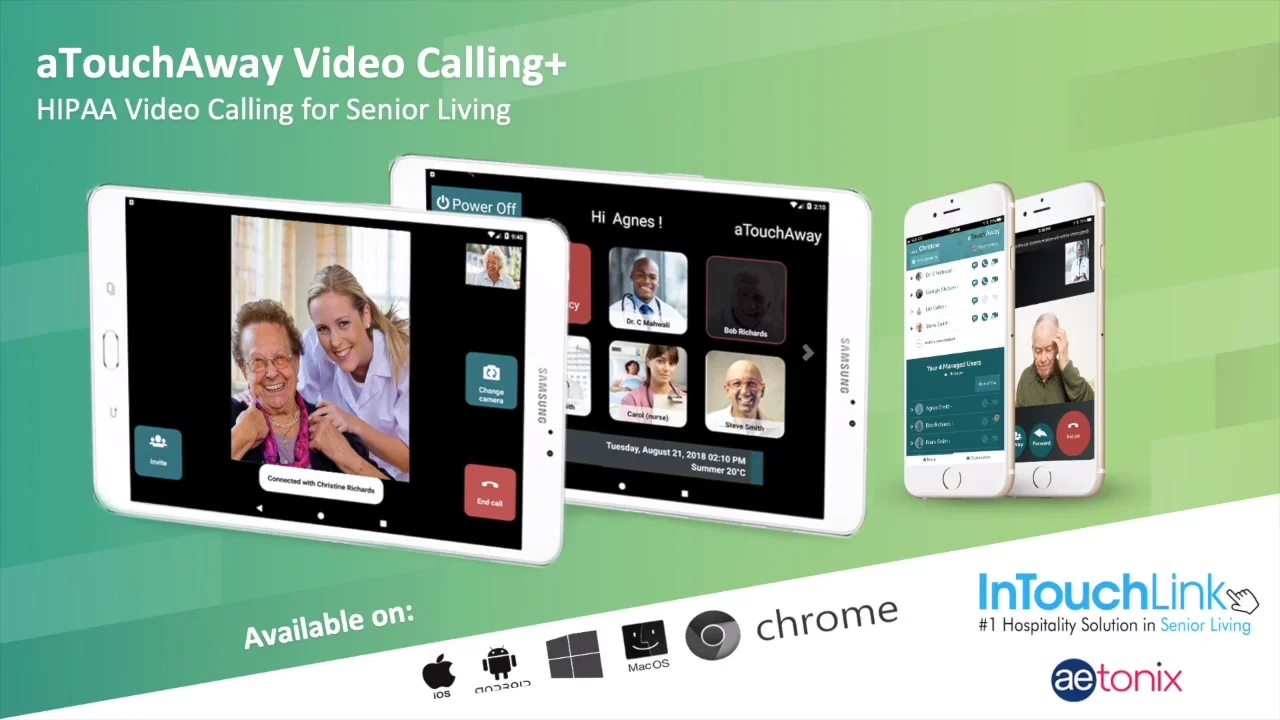 There is no short supply of technology solutions for senior living operators. It's difficult to navigate all the options out there and hopefully, this article has helped identify a few relevant solutions for your communities. If we can help with a free analysis of your existing enterprise solutions and make some recommendations, please contact us below and we'd be happy to.
We also offer free technology assessments for your senior living community. Book a senior living technology assessment today and one of our senior living specialists will contact you within 2 hours to set up a customized session with you.
Book a demo today! The demo is customized around you. Get answers to your unique questions and find out why InTouchLink is the right choice for your community.
See For Yourself.


Book a Demo Today!